About This File
For all vehicle creators/modelers: I've included a documentation file, in case you want to make a compatible vehicle, where people can toggle the weapons in a gunrack. It's not complicated at all, and if you upload a vehicle with this feature, please send me a message so I can put a link up on this download page
This plugin allows you to store your Carbine Rifle, Shotgun, SMG, as well as Body Armor and Fire Extinguisher in your police car, and also to retrieve it. 
It does NOT require compatible vehicles, however, they will add additional features, like seeing your weapons appear/disappear from the gunrack.
Features:
Store your Carbine Rifle, Shotgun, SMG, fire extinguisher and armor in your patrol vehicle.
Retrieve the same from either inside the vehicle, or from the outside. Stand near the driver door and press the key to retrieve your weapons, stand near the trunk and press the key to retrieve your armor + medkit and/or your fire extinguisher
Includes some fancy animations
Customizable attachments for the weapons
Customizable keybinds
Installation:
Put the .dll and the .ini into your "Grand Theft Auto V\Plugins\" folder.
Make sure to take a look at the .ini file to set your name and preferred keybind.
You have to sit in a Police car  to store and retrieve your rifle/shotgun.
It does not matter whether it's a default police car, a replacement, or an addon, as long as you added the Police car correctly.
It works with the Carbine Rifle(MK2) and PumpShotgun, which come with an equipped flashlight upon retrieving. 
Disclaimer:
Do NOT upload or redistribute without my written permission.
This includes private sharing or uploading to any other website. 
And here's a link to my Discord server, where you'll find information about the current state of development for my plugins, and you'll get early access to beta builds:
The first compatible vehicle. Made by @panoszaf. Thank you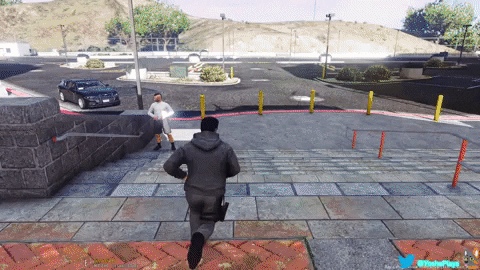 Thanks to FirstThirtyMinutes for showing the plugin in action!
---
What's New in Version
1.4.1.0
Released
Patchnotes for 1.4.1.0:
Fixed scope not attaching on standard Carbine Rifle.
Patchnotes for 1.4.0.0:
Added SMG
Added SMG Mk2
Added Attachments for SMG/Mk2
Added Shotgun Mk2
Added Attachments for Shotgun/Mk2
Added all 3 Scope variations for the Carbine Rifle Mk2, SMG Mk2, and Shotgun Mk2
Patchnotes for 1.3.3.0:
Updated for RPH .63
Changed a function for making compatible vehicles. (misc_z and extra_ten for the Carbine Rifle, misc_y and extra_12 for the Shotgun)