About This File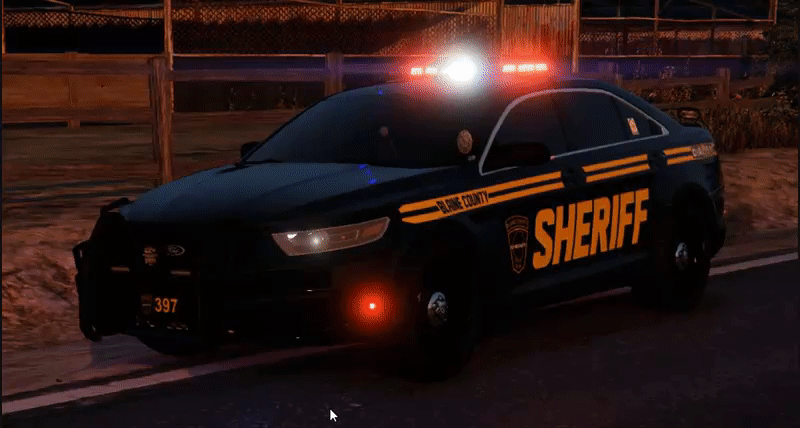 2016 Blaine County Sheriff's Office FPIS
Wanted to do something a little different. This is a FPIS with a Federal Signal Integrity. Has optional ALPR's on the trunk. The rear antenna sways and also comes with a Grapeseed livery.
-2010 Ford Taurus SHO by Turn 10 Studios, modified into 2016 Ford Taurus Police Interceptor by OfficerUnderwood
-Rear bumper, headlamps, & dash by be fast, modified by OfficerUnderwood & Carper
-Front bumper by Ridgerunner, Grill by Vertex3D, modified by OfficerUnderwood
-Chassis parts by Ubisoft, Reverse lights by OfficerUnderwood
-Rims by BxBugs123, Centercap by Carper
-Wheels by Matt
-FS Integerity by Twurtlee
-Whelen ION DUO by HDGamerzPC
-Spotlight by Black Jesus. Converted to PAR 46 by Gump
-Watchguard 4RE by CAP N' CRUNCH
-Radar by HDGamerzPC
-Laptop by OfficerUnderwood
-Console by Twurtlee
-Trunk antenna by Carper and roof antenna by Gump
-ALPR's by BxBugs123
-Rambar by Carper
-Whelen SA315P by HDGamerzPC
-Livery by Slendis and BradM
I'm aware the spotlights don't shine on the ground...I can't get the corona in the right spot for it not to flip. Got tired of it.
Stay vigil and thirst my friends..