About This File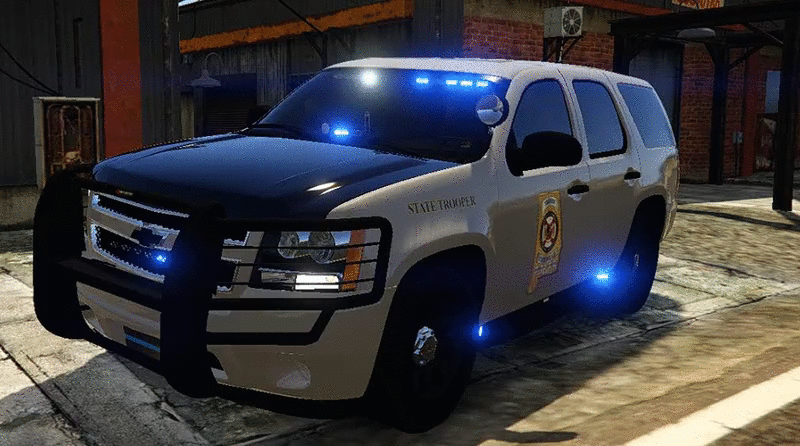 I'm very happy to present to you guys the 2013 Chevrolet Tahoe Andreas State Patrol with the livery made to look like Alabama SP.

You will have 5 extra's to choose from:
extra_1 -Wilson CB Antenna
extra_2 -ALPR's
extra_3 -Spotlight
extra_4 -Stalker Radar
extra_5 -Rambar with wrap

 Installation:
You can rename the .yft and .ytd to whatever you want,you don't have to use police.yft.
    For RDE users: Install into update.rpf\update\x64\dlcpacks\rde\dlc.rpf\x64\levels\gta5\vehicles.rpf\
    Non-RDE users will have to rename the cars to whatever you want, then place in the latest patchday: update.rpf\update\x64\dlcpacks\patchday9(or 10)\dlc.rpf\x64\levels\gta5\vehicles.rpf\
        The sirensettings is 1, so change the .metas accordingly, if you need to(Probably won't at this point)
To edit handling for the tahoe:

Go to the necessary vehicles.meta, and change the handling id of the slot your using for the tahoe. Replace the handling id with "baller" or "baller2"

Credits:
-  Model from free 3D site, author unknown.
-  Converted and edited by GeorgieMoon.
-  Interior by 4x4 Hummer merged and textured by GeorgieMoon.
-  Interior converted by FightingNote
-  Wheels by BxBugs123
-  Livery by Gump
-  Spotlight by BlackJesus
-  ALPR's by BxBuggs123
-  Antenna's by Gump,Priman and Vertex3D
-  Rambar and wrap by Carper
-  Watchgard 4RE by CAP N' CRUNCH
-  Console by Sheriffvandyke
-  Toughbook CF31 by Ridgerunner
-  Stalker radar by CAP N' CRUNCH with edits by Gump
-  Whelen Dominator by Tomcat8492
-  Whelen Avenger by Trumapak
-  Code 3 XT3 by Macgregor
-  Federal Signal Solaris ILS by M67v

Stay vigil and thirsty my friends..